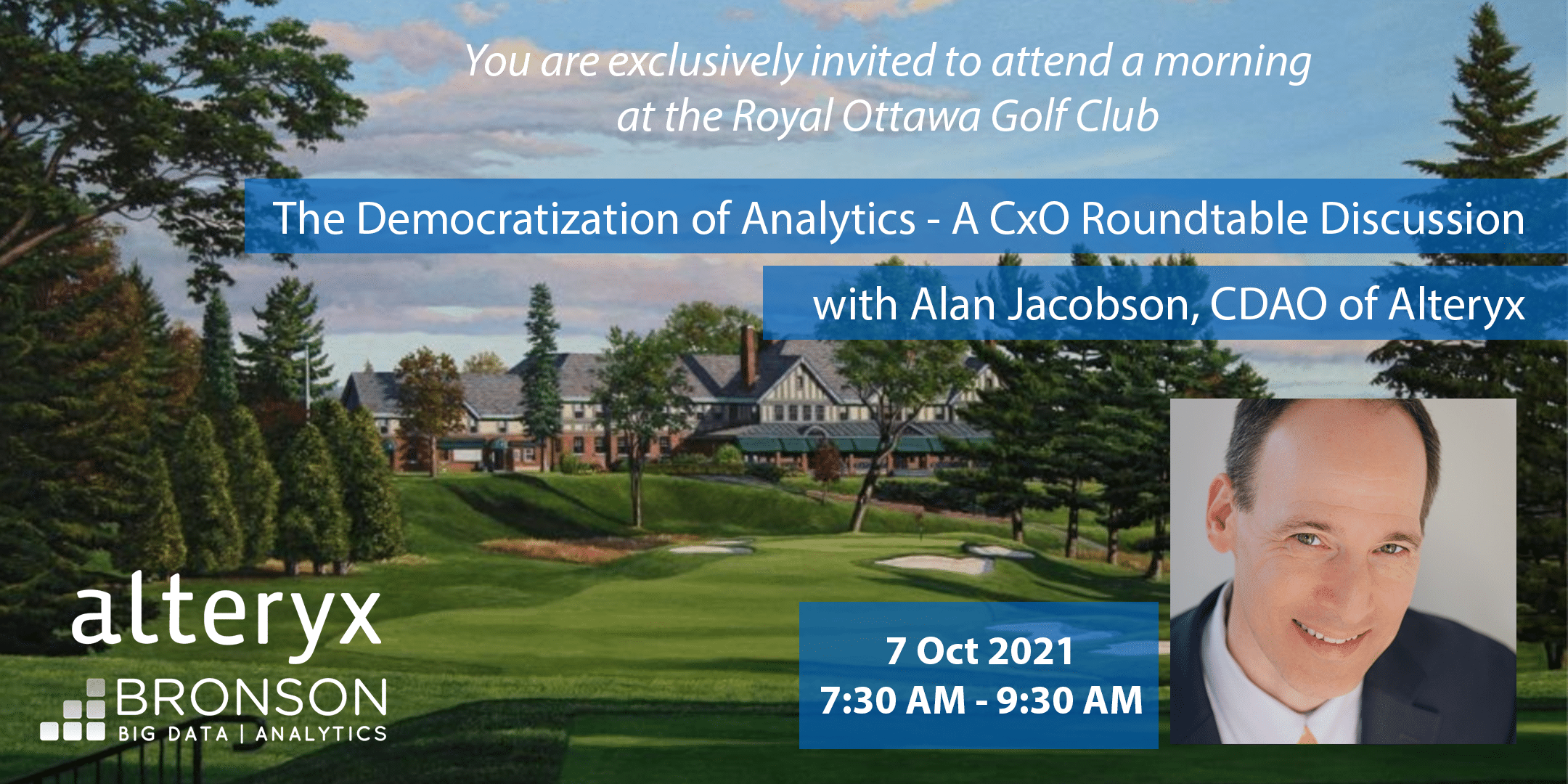 A breakfast roundtable discussion at The Royal Ottawa Golf Club with Alan Jacobson, Chief Data and Analytics Officer of Alteryx.
Join Bronson Analytics and Alteryx on Thursday, October 7th for The Democratization of Analytics – A CDO Roundtable Discussion with Alan Jacobson.
The focus of the roundtable will be to discuss the democratization of analytics and what that means to the CxO's in the nation's capital, including the Federal Government. Alan will facilitate the discussion focusing on the benefits of converting knowledge workers into data-driven champions and how that shift can lead to efficiency gains, risk reduction and continuous upskilling across the organization. Additionally, Alan will share his experience creating analytic innovation programs from his time at Ford Motor Company and Alteryx.
Bronson is excited to be partnering with Alteryx to host Alan for this topical discussion.
Timeline:
7:30-8:00 AM – Arrivals, coffee and peer networking
8:00 AM – Opening remarks – Martin McGarry, President and Chief Data Scientist, Bronson Analytics
8:05 AM – Breakfast*
8:30 AM – Keynote and discussion – The Democratization of Analytics with Alan Jacobson, CDAO, Alteryx
9:30 AM – Wrap-up
About Alan Jacobson
Alan Jacobson is the chief data and analytics officer (CDAO) of Alteryx, driving key data initiatives and accelerating digital business transformation for the Alteryx global customer base. As CDAO, Jacobson leads the company's data science practice as a best-in-class example of how a company can get maximum leverage out of its data and the insights it contains. He is responsible for data management and governance, product and internal data, and use of the Alteryx Platform to drive continued growth.